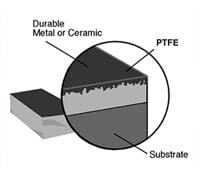 Our most frequently requested and applied non-stick type coating, is our own DURA-SLIDE™. This coating system integrates one of many wear resistant thermal sprayed coatings (i.e. stainless steel, ceramic, tungsten carbide) with a topcoat of PTFE or other similar material. DURA-SLIDE™ is excellent in situations where abrasion, scraping, or other wear is encountered.
DURA-SLIDE™ Durability
A DURA-SLIDE™ Series coating performs better than ordinary coatings because it retains the PTFE or other non-stick material within a hard, wear resistant thermal sprayed metal or ceramic.
These components perform better with DURA-SLIDE™.
Hoppers
Rotary Cutters
Guillotine Blades
Paddles
Mixing Bowls
Ceramics
Metals
Ceramics

Chrome Oxide

Metals

Tungsten Carbide

Ceramics

Aluminum Oxide

Metals

Stainless Steel

Ceramics

Titanium Oxide

Metals

Chrome Carbide

What is the DURA-SLIDE™ series?
The DURA-SLIDE™ Series combines a specially applied thermal sprayed metal or ceramic with one of many PTFE-type materials. This combination creates a unique coating system that adds "durability" to the "slide" of PTFE or other similar materials. A DURA-SLIDE™ coating is ideal for use in any situation that requires a durable non-stick (release), dry lube, or corrosion resistant coating.
Thermal Sprayed Coatings include:
Plasma Coatings
High Velocity Oxy Fuel Coatings
Electric Arc Coatings
Oxy/Fuel (Flame Spray) Coatings